CBD as a complementary therapy
The majority of the evidence available suggests that CBD and cannabis therapies may complement cancer treatment. CBD may help people with cancer by:
Stimulating appetite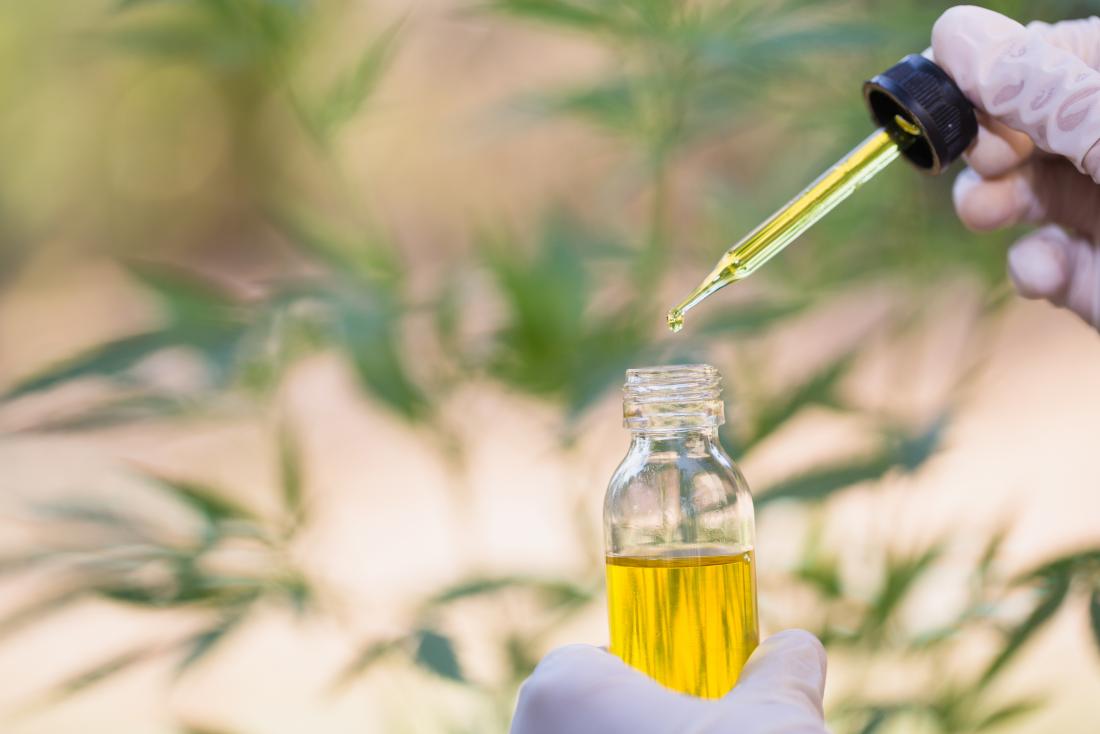 CBD oil may help relieve pain and stimulate appetite.
Many people who are going through cancer treatment experience nausea and loss of appetite.
These symptoms can make it difficult for them to maintain a healthy weight.
Ingested cannabis that delivers THC and other cannabinoids to the bloodstream my help stimulate the appetite, but there is no evidence that CBD alone can have this effect.
Pain relief
Both cancer and its treatment can lead to pain. Cancer often causes pain due to inflammation, pressure on internal organs, or nerve injury. When the pain is severe, it can even become resistant to opioids, which are powerful pain relievers.
CBD indirectly acts on the CB2 receptors, which may help with widespread pain relief by reducing inflammation.
Nausea
Cannabis and cannabinoids such as CBD may also be helpful for people with cancer who experience regular nausea and vomiting, especially when this is due to chemotherapy.
However, the antinausea effect appears to come from THC in cannabis, rather than from CBD. People looking to try cannabis to reduce nausea should prepare themselves for the potential psychoactive effects of THC in prescribed cannabis products and discuss them with a doctor.
Many people find relief from low doses of THC. Prescription versions of synthetic THC that have fewer side effects are available.
How CBD Might Control Cancer Cell Growth
CBD gravitates towards the CB2 receptors in the spleen, which is home to the immune system. CB2 is responsible for activating the immune system. CBD is biomimetic to the body's anandamide, which naturally activates CB2 receptors. That means the body can use CBD and anandamide interchangeably. As such, when an injury, illness, or stress demands more from anandamide than the body can produce, the mimetic CBD is activated. If there is transitory stress, the therapeutic aid will be transitory. If this demand remains, like in the case of cancer, the therapeutic aid provides a sustained pressure of modulating agent on a homeostatic system.
Basically, once CBD gravitates towards the CB2 receptors, it seeks out cancer cells and destroys them. In fact, studies have shown that CBD has the ability to destroy cancer cells directly without the involvement of immune intermediaries. That's because CBD can hijack the lipoxygenase pathway to inhibit the growth of cancerous tumors directly.
Possible Effects of Using Cannabidiol For Cancer Symptom Relief
The major advantage of using CBD to relieve cancer is the fact that it doesn't have the side effects associated with strong chemical medications and it won't make the patient loopy or "high". Even more so, it has been proven to have an array of positive effects on cancer patients.
These include:
Triggering the death of cancer cells
Preventing unhealthy cell division
Preventing the growth of tumors in the new blood vessels
Reducing the spread of cancer cells throughout the body
Speeding up the waste disposal mechanism of the body or autophagy which can cause the death of cells.
All these effects are caused by locking off of CB2 receptors with the use of CBD.
More studies are needed, but it is ALMOST confirmable that cannabidiol can be used as an effective complementary cancer therapeutic aid.