I try not to read the News, I know to a lot of people that sounds quite ignorant but I find that its all bad news and really effects me in a negative way.  So in order to raise my vibration I am sitting here reading all these beautiful stories from around the world which shows humans compassion to one another and of course my favourite, the good old soppy animal stories that cant help but lift your spirits.
Here is the story of the Therapy dog….Ahhhhhhhhhh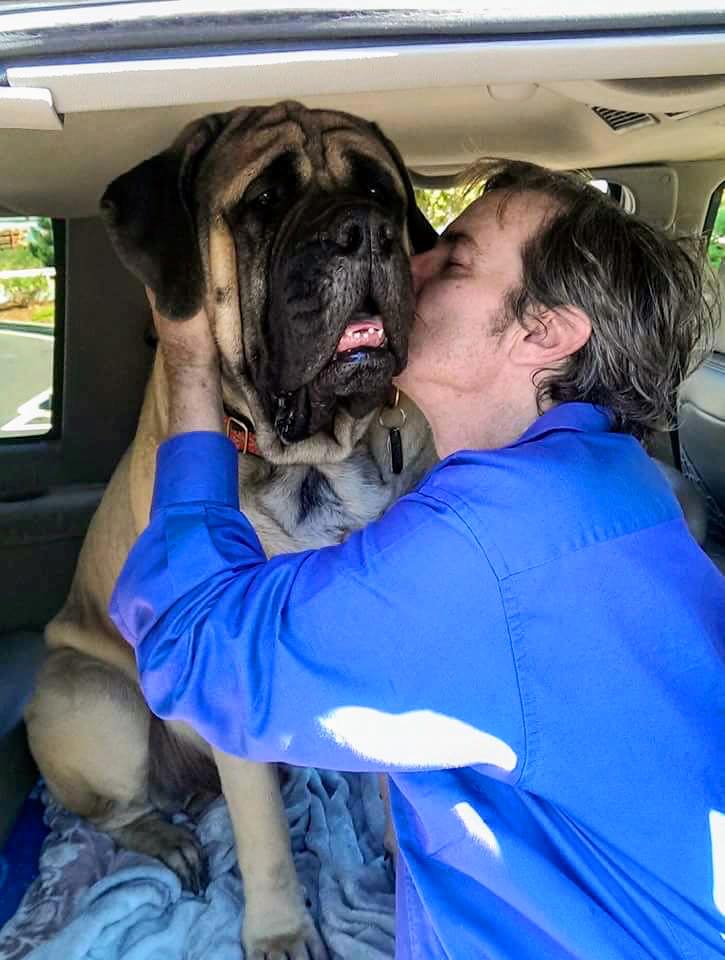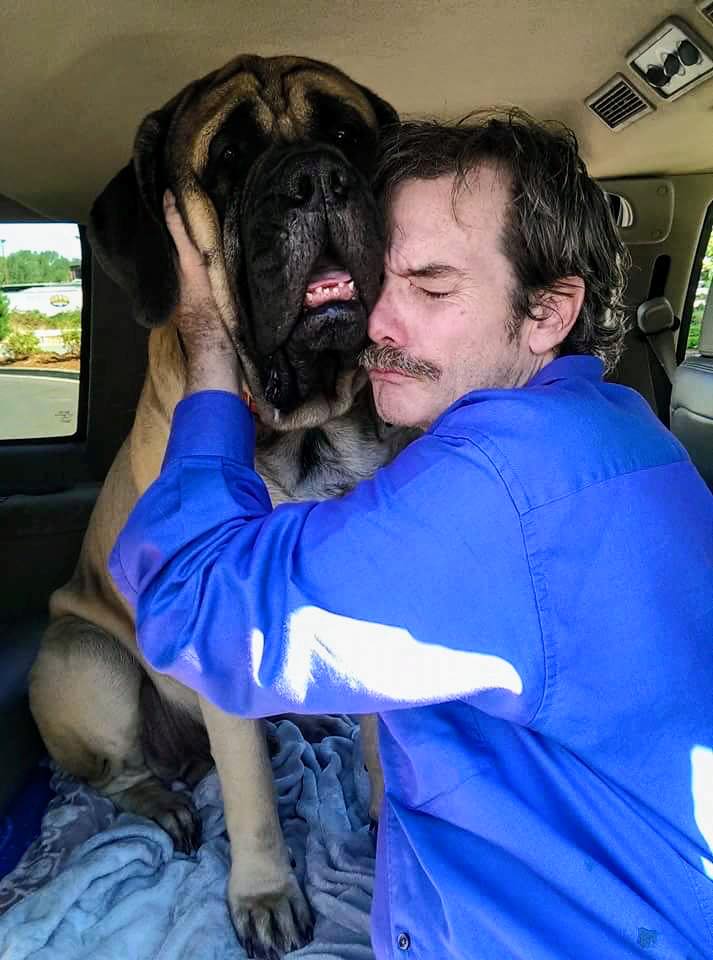 Therapy Dog Stuck In Traffic Jam Helps A Man Who Desperately Needed A Hug
January 31, 2018
Sherman is a 4-year-old, 230 pound Old English Mastiff who lives with his family in Longview, Washington. He's also a therapy dog who loves to visit with anyone who could use a smile or is in need of having their spirits lifted.
Sherman focuses most of his time volunteering through pet therapy by hanging out nursing homes (mostly to flirt with the pretty ladies), rehab facilities, and spending time with hospice patients and their families.
Sherman also likes to visit elementary schools each spring to teach the little ones about dog safety.
Recently, Sherman changed a stranger's day when a man spotted his "big ol' head" hanging out of the car window in a traffic jam. Sherman's owner, Sherry McAllister, shared the touching story on Facebook.
Credit: Sherman the Therapy Dog
"We were stuck in a huge traffic jam for about 15 minutes, without moving, when my phone rang. Since we obviously weren't going anywhere, I answered. On the other end of the phone was a soft-spoken man who introduced himself as, Andy."
"He explained he was a few cars back from us, and saw Sherman stick his big ol' head out the window, so he called the number on our decal (we have a huge decal on three sides of the suburban with a picture of Sherman's head, his name, and our contact number). He told us he had just returned home after a 3+ month stay in a nursing home facility. He was recovering from the most recent of multiple back surgeries."
"It's because of this stay in the nursing home and his failing health that he had to rehome his large breed dog. He is, sadly, unable to care for him any longer. This decision clearly broke his heart, as we could hear him choking up as he spoke. He asked if we could meet up sometime, so he could just pet Sherman. Of course, we told him we would love to set a time to meet up with him. He thanked us and we said our goodbyes, with a promise to set something up in the next few days.
As we sat there in traffic, I couldn't get Andy's sad voice out of my head. We decided to call him back and ask if he would like to turn off into the Wal-Mart parking lot to say, 'Hello' to Sherman real quick. We could hear his voice cracking over the phone when he said, 'Yes!'."
"When we met him in the parking lot, he slowly got out of his vehicle, using a cane. After proper introductions, we opened the side door of the suburban and told him he was welcome to sit inside the door, to visit with Sherman."
"As soon as he sat down, Sherman came right over and started nuzzling into him. The tears started almost immediately… Andy sobbed into Sherman's neck. Sherman just sat there, letting him hug him, hold him, and kiss him. It wasn't long before we were all pretty teary-eyed, as he told Sherman all about his dog he had to let go.
You're a good boy, Sherman."xxx